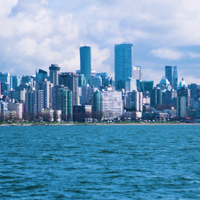 Vancouver, Canada
A coastal seaport city at the lower mainland region of British Columbia, Vancouver is the most populous metropolitan in the province. Being consistently named as one of the top most liveable cities in the world, it is home to the most ethnically and linguistically diverse group in Canada. This melting pot of rich diversity has found its unique flavour integrated in its culture, cuisine, and fashion. No wonder that one of the most desirable fashion events of the country, the Vancouver Fashion Week, gets to be hosted twice annually in this marvellous city.
Read More >>
Positano, Italy
Based in Campania, Positano is a small village on Italy's Amalfi coast. During the first half of the twentieth century, Positano was a relatively poor fishing village and began to attract large numbers of tourists in the 1950s. The location became increasingly popular after John Steinbeck published his essay about Positano in Harper's Bazaar in May, 1953 writing : "Positano bites deep...It is a dream place that isn't quite real when you are there and becomes beckoningly real after you have gone."
Read More >>
Capri, Italy
Capture the magic of Capri Island, Italy as fashion corespondent Stefanie Rycraft Jones experiences the dolce vita in her latest Style Diary. Our adventurous host immerses herself into the history, culture and arts of this mythical location and celebrates the glamorous and exciting Capri lifestyle, giving the viewers a taste of Capri as the perfect holiday spot.
Read More >>
Lanzarote, Spain
Fashion correspondent, Stefanie Rycraft Jones she goes to Lanzarote, Spain to explore the volcanic Spanish island bordered by the Atlantic Ocean. Born through fiery eruptions, the island's breathtaking surroundings and ideal location has been a favorite holiday active spot for sports enthusiasts young and old, elite and beginners, holidaymakers and sports teams - a perfect location for a Fitness Bootcamp.
Stefanie teams up with the Transformers Fitness Group, with the aim to sculpt her body in time for London Fashion Week. Over six days, Stefanie will do a number of activities, interviewing professionals in the fitness area to show viewers how to lose weight and eat healthily.
Read More >>
London, United Kingdom
London is truly a leading global city, with something for everyone, it combines both urban zones and metropolitan areas seamlessly and is home to a diverse range of cultures and people with more than 300 languages are spoken within the boundaries. Stefanie takes us to her homecoming in the streets of London reintroducing the "real" hot spots from a local's perspective.
Over this three part series, we will be discovering London at its best, exploring all things hipster and quirky in the east, to the buzzing centre in Mayfair to the most exclusive andexquisite destinations in the west.
Read More >>
Bordeaux, France
Fresh from her adventures in Greece, Stefanie travels to Bordeaux, France for another exciting entry in her diary in a 3-part series. Experience the world of luxury wine tourism by Bernard Magrez at his flagship flagship chateau – Chateau Pape Clement.
Stefanie immerses herself into the splendid atmosphere of Bordeaux in everything about the world of luxury with five star accommodations and service as well as satisfying her hunger with a dinner at the Chateau's dining room, preparedby an amazing Michelin starred chef.
Read More >>
Athens, Greece
Fashion correspondent, Stefanie Rycraft Jones, takes us around the city of Athens for Athens Fashion Week. During this time, she goes around to explore the city known as the birthplace of Western civilization. From member's clubs to contemporary art galleries, Stefanie Jones has the all the private hook ups for the ins and outs of this amazing city in this 2-part series.
Read More >>