2014 Fashion Year in Review
2014 came and went almost as quickly as the sneaker wedge. I'm going to take a page out of Regina George's burn book and say stop trying to make sneaker wedges happen;
they are never going to happen
. But I digress.
From the holy union of Kim Kardashian and Kanye West, to the tragic passing away of some of culture's brightest stars, the year 2014 saw no shortage of events to write about. As 2014 comes to close, its time to look back to remember, give thanks, and cringe at some of the best and worst fashion moments of 2014.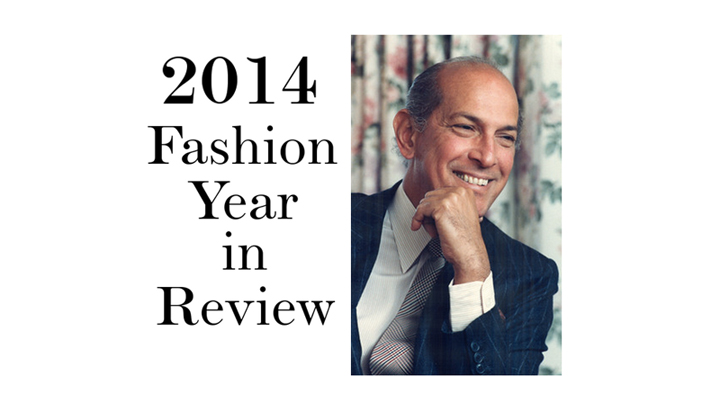 (The late Oscar de la Renta)
R.I.P Oscar de la Renta
The fashion world was stunned when Oscar de la Renta, one of the most well-known and respected designers in fashion history, passed away on October 20, 2014. De la Renta first made a name for himself in the 60s when he started his ready-to-wear collection, and has since then become the go-to dresser for celebrities, models, and even First Lady Michelle Obama. After his long battle with cancer, he passed away at the age of 82.
Alexandra Shulman, editor of British
Vogue
, stated on the day of his passing, "Of all the designers in the world, Oscar de la Renta was the most reliable at designing clothes that made you feel beautiful,"- a sentiment that captures just how deeply his loss is, and will continue to be felt in the industry.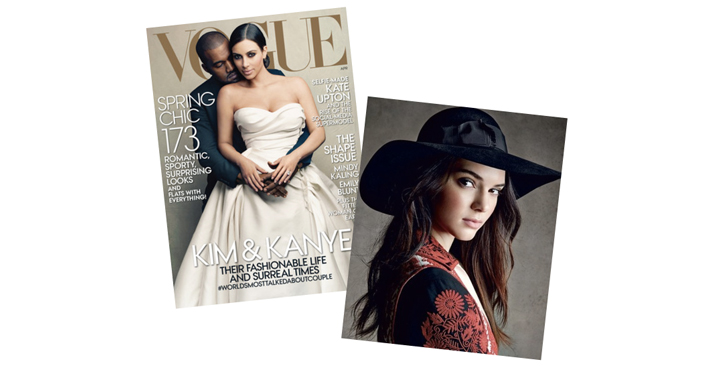 (Newlyweds Kim Kardashian and Kanye West on the cover of VOGUE, rising star Kendall Jenner)
All Hail Kimye
On May 24, 2014 Kim Kardashian and Kanye West, arguably two of contemporary pop culture's biggest stars, tied the knot. The lavish and over-the-top affair took place in Florence, Italy and was estimated to cost around $15 million dollars. The event was covered exclusively by E! Network and was photographed by (now) instafamous photographer, 22 year old Connor McDonnell. Since then, Kimye and baby North West have become fashion's most talked about family; we're excited to see what 2015 has in store for them.
The Year of Kendall Jenner
Kim was not the only one in the Kardashian-Jenner clan to make headlines this year. Kendall Jenner, Kim's 19 year old and much underestimated sister, made a name for herself this year by becoming one of fashion's most demanded models. This year Kendall strutted down the catwalk, became the global face of Estée Lauder, and travelled around the world with her BFF supermodel Cara Delevigne. From catwalking for Chanel to getting
spanked by Santa
, Kendall Jenner was definitely 2014's one to watch in fashion.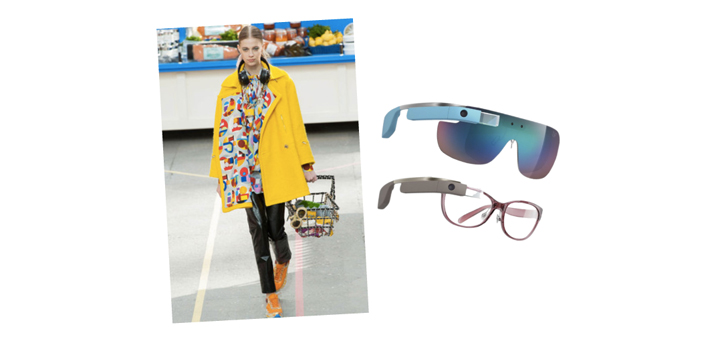 (Supermodel shops the Chanel grocery store, Diane von Furstenberg x Google Glass collection)
Chanel Does Groceries
Karl Lagerfeld is an expert at taking the fashion world's breath away, but this year he outdid himself when he created the "Chanel Shopping Center" at the Grand Palais during Paris Fashion Week. Made to look exactly like your neighborhood supermarket, no detail was overlooked as supermodels shopped for Coco Flakes and Chanel brand champagne instead of doing their usual walks down the runway. Lagerfeld created a world where all things are luxurious and encrusted with the brand's iconic double-C logo. But beyond fine taste and high fashion, Lagerfeld showed us that even fashionable women must go to the store- making this the best runway show of the year.
Technology Get's a Makeover
Of all the trends that appeared, reappeared, and fizzled out in 2014, one trend managed to survive the fickle fashion world- the trend of
wearable tech
. Fashion teamed up with the tech industry this year to create fashion forward, wearable pieces of technology. The most notable collaboration was between Diane von Furstenberg and Google. Together, they created on-trend and retail friendly frames that work with the innovative and much sought after Google Glass. They are available to purchase on premium online shopping site
Net-a-Porter
.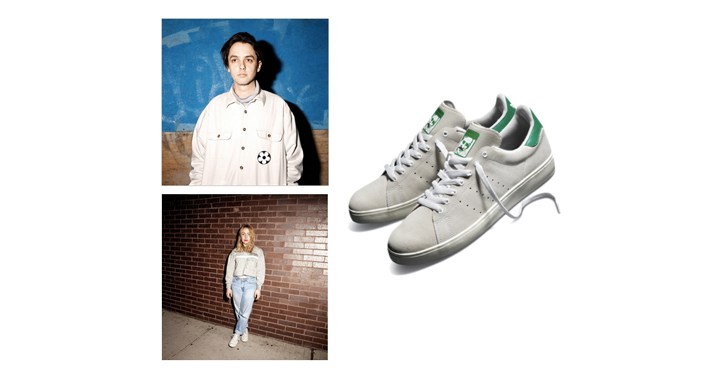 (Normcore style, the classic Stan Smith)
Normcore is the New Buzzword
I use the term buzzword loosely- as in, can we please stop using it already? Normcore first emerged as a fashion subculture for internet kids and has since then, to my disdain, cropped up all over the fashion world. Normcore is a style that is defined by being purposefully dull and excruciatingly conformist. In an article she wrote for
NY Mag
, Fiona Duncan wrote, "At first, I spotted just occasional forays into normcore: the rare cool kid wearing clothes as lukewarm as the last sips of deli coffee—mock turtlenecks with Tevas and Patagonia windbreakers [then] Jeanette Hayes (who's created work on behalf of Proenza Schouler and Alexander Wang) was layering white athletic socks with strappy stilettos, and posing for selfies[...]" Just reading the words "mock turtleneck" gives me a migraine. Let's leave normcore in 2014, where it should have never even begun in the first place.
Stan Smiths Make a Comeback
2014's best comeback wasn't Taylor Swift, but instead goes to the classic adidas Stan Smith shoe. Earlier this year, adidas announced that they would be relaunching the iconic Stan Smith. The minimal, white leather shoe has since then been re-envisioned by fashion heavyweight Raf Simons, Parisian concept store Colette, and most recently,
given a makeover
by musician and style icon Pharrell Williams. Move over T. Swift, the Stan Smith is here to stay.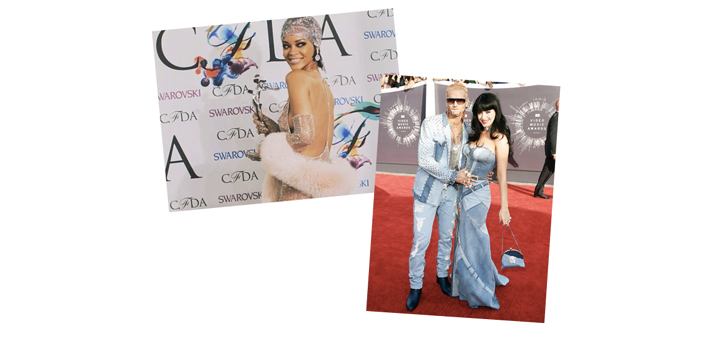 (Rihanna in a swarovski covered dress, Katy Perry and RiFF RAFF in matching denim ensembles)
Still Not Over...Rihanna's Swarovski Dress
The fashion world's gasp was audible all over the world when Rihanna walked the red carpet at the CFDA's earlier this year. Decked out in a sheer dress covered in over 200,000 swarovski crystals Rihanna had the media in a frenzy for days afterwards. Though this is not the first time the media has seen a barely there dress on a starlet (remember Britney Spears' "
Toxic
" and Kate Moss' naked dress?), this was certainly one of the most fabulous and well executed. When a particularly brazen reporter questioned the music industry queen, Rihanna replied "Do my tits bother you? They're covered in Swarovski Crystals girl," making this 2014's most talked about dress and quote of the year. Watch the video
here
.
Fashion Copycat of the Year: Katy Perry and RiFF RAFF
Did anyone else feel like they were having a serious déjà vu moment when Katy Perry and RiFF RAFF walked the red carpet together at the VMA's this year? That's because the unlikely (and extremely odd) duo decided to recreate Britney Spears and Justin Timberlake's
matching denim ensembles
circa 2001. This look was barely acceptable when the millennial pop power couple wore it over 10 years ago. Needless to say, déjà vu was quickly followed by discomfort.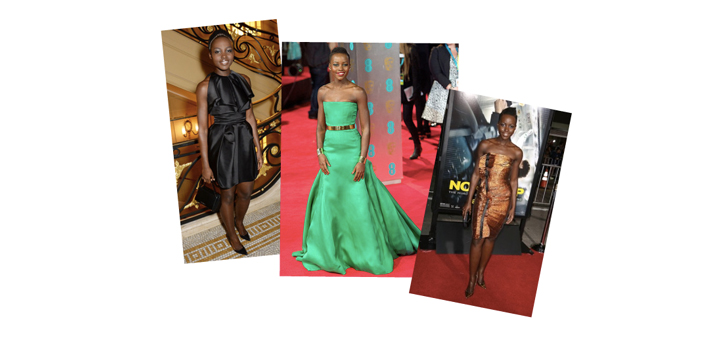 (Lupita Nyung'O's red carpet looks)
Fashion All-Star of the Year: Lupita Nyung'O
Lupita Nyung'o first emerged on the scene after her first feature film role in last year's
12 Years a Slave
- where she showed Hollywood that she was an actress to be reckoned with. Since then, she's been captivating fans and the fashion world with her classic red carpet looks and has even been called this generation's Audrey Hepburn. Often seen in bold colors and in classic brands like Miu Miu and Chanel, Lupita Nyung'O is definitely fashion's favorite style icon this year.
Iconic, embarrassing, and even emotional- 2014 was an eventful year for the fashion industry.
Credits:
Polyvore