What-to-Wear: Travel Guide
This season is one of the most notoriously busy times in the travel industry. Whether you're hopping on a plane to your hometown, jetting off to the nearest tropical island, or catching a red-eye on a business trip; chances are that many, if not most of us, will be travelling to some degree this season.
In my latest attempt to solve the "What to wear?" question, I've put together a ready-to-go outfit for all of you who will be jet set in the near future. Bus, plane, or car; avoid looking jet-lagged this year with this easy to wear outfit for all of your travel needs.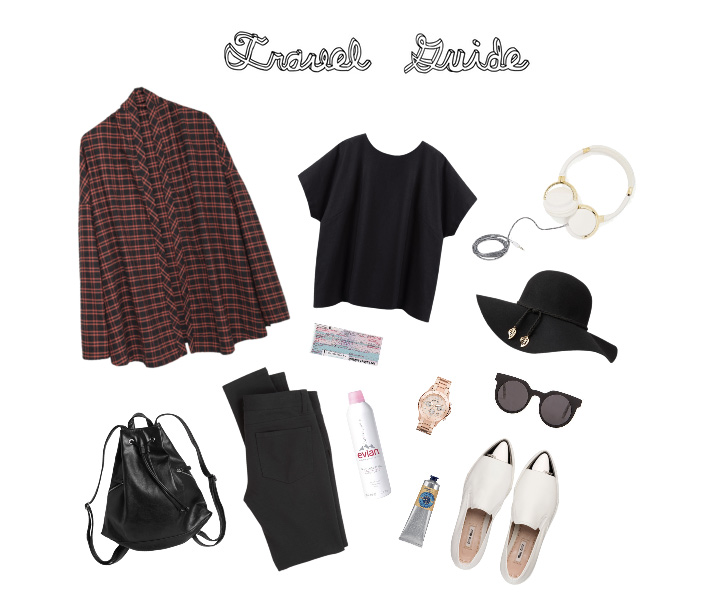 1. A Comfy Cardi
An on-trend update of the oversized flannel, this cardigan-shawl hybrid is great to wear when it gets too chilly or to use as a pillow when you *attempt* to sleep. An oversized cardigan is casual enough for the airport, comfortable enough for the plane, and cool enough to meet your friends in after your flight; aka the perfect thing to wear wherever you're going.
2. The Perfect T-Shirt
If a t-shirt seems boring and uninteresting to you, that's because you haven't found the perfect t-shirt yet. The beauty of the perfect tee is endless. Dress it up for Sunday brunch, dress it down for a casual cool-- the reason why its considered perfect is that its the chameleon of clothing. The perfect shirt works for just about any occasion, and travelling is no exception. If you haven't already, find a t-shirt that you want to live in and buy it in black, grey, and white.
3. Denim with a Stretch
Stretchy denim is a must on any trip. Be it a road trip or a plane ride, investing in a pair of denim with the right amount of stretch will keep you comfortable during your travels, however long they may be. I like a skinny, ankle cut jean for this look because it keeps the otherwise casual look feeling polished.
4. Slip-On Sneakers, with a Twist
There's just something about slip-on sneakers that remind me of my 10th grade boyfriend who wore too-tight pants and was really into skateboarding, even though he didn't know how to skate. These slip-ons, however, are just about as far from high school as you can get. The pointed gold tip gives these sneakers a sense of refinement, while the absence of laces make these shoes ideal for slipping on and off through airport security.
5. A Floppy Hat
I have this hat, and I love this hat. It's my go-to solution for bad hair days; which is often, when I can't be bothered to do my hair; which is always, and when I want to make an outfit look more put together. This applies for travelling too. Your morning blowout probably isn't going to make it on a 5 hour bus ride to your hometown, so bring a hat to hide those flyways and to keep you looking stylish at the same time.
6. Carry-All Carry-On
Remember when backpacks were considered uncool, and so not fashion forward? Well, long gone are those days after backpacks made a come back a few seasons ago. Keep your hands free to play with your phone, to hold your passport, or to frantically wave around when you finally see your loved ones at the airport terminal.
7. Don't Forget!
Don't forget headphones to drown out any crying babies, sunglasses to hide the pillow marks on your face post-plane passout, and a watch to make sure you don't miss any boarding times. Be sure to pack travel sized face mist and lotion to keep your skin from drying out on the road.
Wherever you're headed this season, keep your look comfortable and chic with this outfit travel guide.
Happy travelling!
Credits:
polyvore