10 Office-to-Party Must-Haves
December is here, and for us working girls that means two things: working hard and playing harder. With the mad rush of end-of-the-year deadlines and inevitable overtime also comes the silver lining-- free-flowing champagne and fully booked weekends of holiday shenanigans that require you to go from work-to-party with little to no breaks in between.
As a writer who is blogging from the city that
actually
never sleeps (sorry, New York!), I've had to figure out a way to go from office to dance floor without lugging around an entire suitcase. By the time 7 o'clock rolls around on a Friday after work, and you've made plans to head straight to the nearest bar, there's no time to fuss with a bag filled with half of your closet and makeup drawer.
So, as my good deed for this year, I've decided to create an on-the-go kit for all of you hardworking, party-savvy ladies out there. These dance floor ready essentials will have you going from office to party in no time.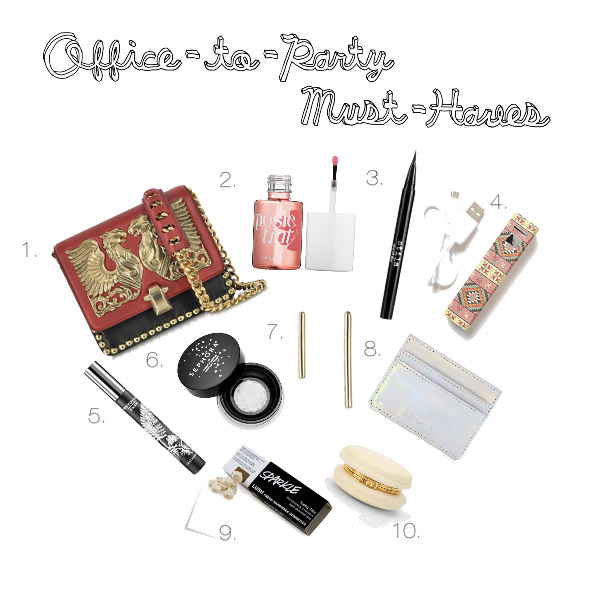 1. The Go-Anywhere Bag
First things first, you need a reasonable bag. A tote is way too big for an evening of bar hopping, and a clutch is too small for, let's face it, anything. I recommend a medium-sized crossbody bag that is work appropriate but still cool enough for a night out on the town. Throw in your eyeliner and iPhone, and still have plenty of room to spare.
2. Benefit Cosmetics Lip & Cheek Stain
As someone who finds herself constantly late and in a rush, I like to purchase things that are practical and multifunctional. This stain by
Benefit Cosmetics
meets both of those requirements. Use it as a lip or a cheek stain for a natural glow that will keep your makeup looking fresh, even after a long day of work. Buy
here
.
3. Stila Waterproof Liquid Eyeliner
I've been wearing eyeliner for over 8 years, and this
Stila
All-Day Waterproof Liquid Eyeliner is by far my favorite. Eyeliners that advertise all-day wear are a dime a dozen, but this one actually works. Its easy to use, doesn't run, and is perfect for all-day in the office and for an all-nighter out with your friends.
4. Portable USB Phone Charger
The size of a lipstick, a portable phone charger will allow you to stay plugged in the whole night. Whether you've been over instagramming, or you need to call a cab at two in the morning (I'm guilty on both counts…), you'll never have to worry about whether or not your phone is dying with this in your purse. This one is by
Free People
, and is available
here
.
5. Rollerball Perfume
After a long day of sweating over deadlines and no time to shower, a perfume rollerball in your signature scent is just the thing to freshen up. Opt for a heavier, more seductive scent for all of your evening festivities.
6. Face and Body Glitter
Nothing says "ready for the party" like a little glitter here and there, especially during holiday season. This glitter pot by
Sephora
works for your body and face, and is just the pick me up your look needs after work. Purchase it on their website
here
.
7. Nighttime Ready Jewels
Accessories are an easy way to transition your look from day to night. I always keep some extra jewelry in my purse because it doesn't take up much space, and because I'm always up for an after-work drink (which often ends up in being an all-nighter in Tokyo). Whether it's earrings, a necklace, or a bracelet choose jewelry that will easily match and glam any look.
8. Cardholder
After being out for a long time, cardholders have recently been coming back in style. Why? Because they save time
and
space. Don't be that girl fumbling around your purse for your credit card or ID when there's a long queue behind you. Keep all of your cash and cards in one, pocket sized place with a stylish card holder. This holographic one is by
Forever 21
. Buy
here
.
9. Lush Toothy Tabs
Keep your smile bright and your breath fresh all day
and
night with these
Lush
Toothy Tabs. At only five dollars a box, these tabs are great for an after-lunch refresher at work
and
post-cocktail when you finally decide to call it a night. These innovative toothpaste tabs can be purchased on the Lush site
here
.
10. Pillbox Tin
So you've successfully gone from work-to-party, and spent all night celebrating with champagne and looking fabulous. You know what's absolutely not fabulous? Being hungover the next day. Take preventative measures and store a couple of Advil in this cute, Macaron shaped pillbox. Buy on the
Urban Outfitters
website
here
.
Whether you're taking calls at your desk, or sipping drinks on the dance floor, this on-the-go kit will keep you looking refreshed and ready in any situation.
Credits:
Polyvore