Kendall Jenner Flips Off Tyler the Creator at Coachella, See the Pics
19-year-old Kendall Jenner shocked Coachella goers after she very publically flipped the bird to performance artist Tyler the Creator during his Saturday night set. It all started when the 24-year-old rapper took the stage and called out Kendall in front of hundreds of audience members.
Tyler the Creator drew attention to the VIP area that Kendall was dancing in. The rapper said, "Kendall Jenner here thinking she cute and sh-t," and after that didn't draw her attention he went on to say, "Hey, Kendall, Kendall, Kendall. I'm over here to your right, f-ck you!"
Kendall responded by giving Tyler the finger, much to the delight of audience members. Many were shocked by both Tyler and Kendall's public feud, but it appears that it was all in good fun.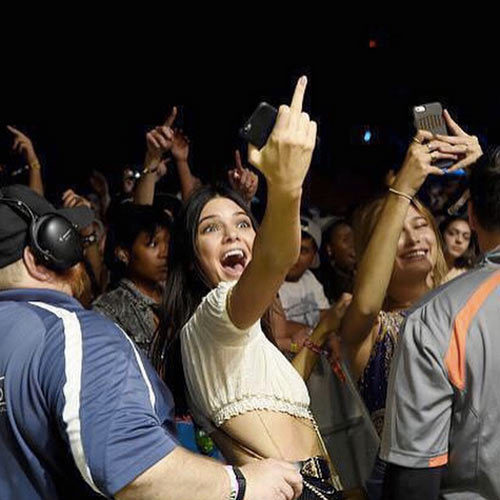 Image via Instagram
Kendall retweeted a video of Tyler's insult later in the night with an emoji and the caption "love." Tyler also tweeted Kendall, "People really think I hate you hahahah," which Kendall then retweeted to her followers.
love RT @itsOddFuture: Kendall Jenner goes to a Tyler, The Creator concert pic.twitter.com/tzOYOICIHM

— Kendall Jenner (@KendallJenner) April 12, 2015
RT @fucktyler: @KendallJenner PEOPLE REALLY THINK I HATE YOU LOVE HAHAHAH

— Kendall Jenner (@KendallJenner) April 12, 2015
Kendall has been having an eventful weekend. The model was also been spotted with her sister Kylie Jenner, fellow model Hailey Baldwin, and 21-year-old Justin Bieber at the three day music festival.